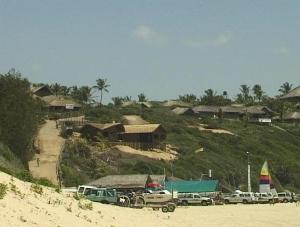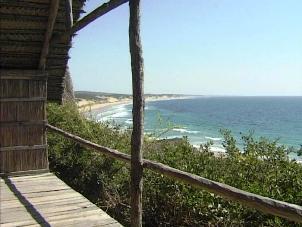 Guinjata Bay is situated about 5 km north of Paindane in the Jangamo Bay area.
The resort is approximately 500 km north of Maputo. The last 25 km to the resort is a sand road .and only accessible with a 4x4 vehicle or a 2x4 with Diff-Lock.
The restaurant and bar is set in the reception area next to a well­ stocked shop, offering ice and fresh bread daily.
The restaurant and ladies bar offers a wide variety of meals on its a-la-carte menu. The specialty is seafood platters that are known for excellent quality/and great taste.
The sportsman's bar with its friendly atmosphere is equipped with satellite TV where you can watch important sports events.
The resort has a wide variety of accommodation that suits all tastes and budgets.
Fully serviced self-catering accommodation is available in chalets that have 2, 3, or 4 bedrooms, fully equipped kitchen, bathroom and living area. These chalets are set high on the dunes and overlook the fabulous bay and beach.
For larger groups there are two guest houses, Alpha and Charlie, each having six bedrooms accommodating 12 people. Campers are catered for, in 6x8-meter thatched shelters known as baracas ,with a water tap, light and plug point for freezers.
Mozambique is well known as one of the best fishing areas in the world.
The resort has 3 fully equipped ski-boats, rigged for marlin, game or fly-fishing. All equipment such as rods and reels are supplied. The resort also offers two 7 -m rubber ducks for diving charters.
Compressors are available for air refills and all diving equipment is available for rent.
Quad bikes, windsurfers, paddle skis and various other watersport equipment are on hire from the watersport Centre on the beach, next to the beach cocktail bar.
Lay back, be self-indulgent and totally selfish, Guinjata bay never demands from you. You set the standards, no pressure, nothing to tempt you except for the gleaming blue ocean and the ever-shimmering beach.